As you know Groupon has bazillions of deals on a day to day basis, but this one is a pretty great one if you are a Starbucks Coffee person.
Deal Details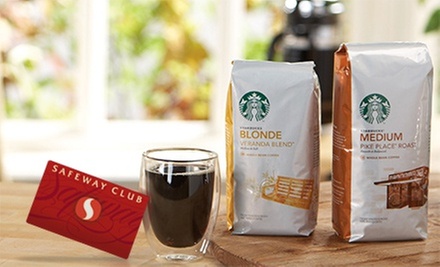 We can click HERE to get this deal!  Again we can look at this deal as we are buying a $5 eGift card to spend at Starbucks, and then getting a bag of Starbucks for $4.  Not too bad!
Here is the fine print!
The Fine Print
Expires Mar 20, 2014
Limit 1 per household. Valid Safeway Club Card req'd. In-store redemption for bag of coffee at participating Safeways by 3/20/14. Valid only for 10-12oz. bag of coffee. If not redeemed by 3/20/14, $4 credit issued to Safeway Club Card; must be used in 1 visit. Online redemption req'd for Starbucks Card egift. $5 Starbucks Card egift valid at any participating Starbucks, does not expire. Purchase confirmed w/in 48hrs. Safeway Club Card acct. or phone# must be provided at checkout.
Thanks for the tip, Hip2Save!